Regular Maid Service
3 hour minimum
Standard services include:
Dusting
Vacuuming
Cleaning bathrooms
Sweep, mop floors
Clean kitchen countertops
Clean outside appliances
Window over kitchen sink
Sliding glass doors
Pick up and organize
Extras:
Window washing
Carpet cleaning
Ask about our senior
citizen discount.
Spring Cleaning
6 hour minimum;
or call for estimate
Includes all regular cleaning services plus major detailing.
(Does not include window washing or carpet cleaning.)
Moving?
∎ ∎ ∎
Let us do the cleaning for you
Homeowners
Property Managers
Office Managers
Store Owners
Real Estate Companies
Rentals
Call
American Maid
We're Flexible
Your personal cleaning service
∎ ∎ ∎
Weekly
Bi-monthly
One time only service
Homes
Apartments
Rentals
Condominiums
Small offices
Call American Maid
today to schedule
your next cleaning
425-868-5091
100% Satisfaction Guaranteed
American Maid ...
Everything you're looking for:
Experienced, Trained Personnel
Reliable
Honest
Licensed & Bonded
Excellence References
We also provide courteous servers and quick cleanup for your dinner parties.
Call Elaine for a
free estimate
425-868-5091
Serving the entire Eastside and Seattle area.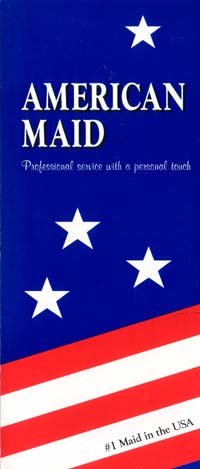 Gift Certificates Available
For the special person in your life
New moms
Birthdays
Anniversaries
Mother's Day
Valentine's Day
Christmas and other holidays
House warming gifts
independent contractor bonus/recognition
Why Spend Another
Weekend Cleaning?
Call ...
American Maid
425-868-5091